Tell us about INDATEL
With the purpose of showcasing statewide networks on a national basis, in 2002, 3 independent networks came together and started INDATEL. Bringing together these networks, the intention was to a promote the value of rural broadband that's become so much more important over the last 2 decades. In fact, next year, INDATEL will celebrate our 20th year! Today, we have 32 member owners with 17 of those being actual equity owners. They are comprised of more than 700 independent local operators across 32 states. That continues to grow our ability to develop broadband in those rural spaces, with the fiber builds and government support that help build and fulfill those opportunities, bringing improved broadband to under and unserved areas.
The mantra of INDATEL from those initial statewide founding networks and individuals to the 32 we have today is about providing value to our member owners, and each of the member owners invest in INDATEL annually. We take those investments and look to co-brand, co-market, and bring awareness and exposure at a national level. Most important are the national contracts that most of the statewide networks couldn't garner for themselves, such as national government accounts that we've begun to fulfill from over 100 locations.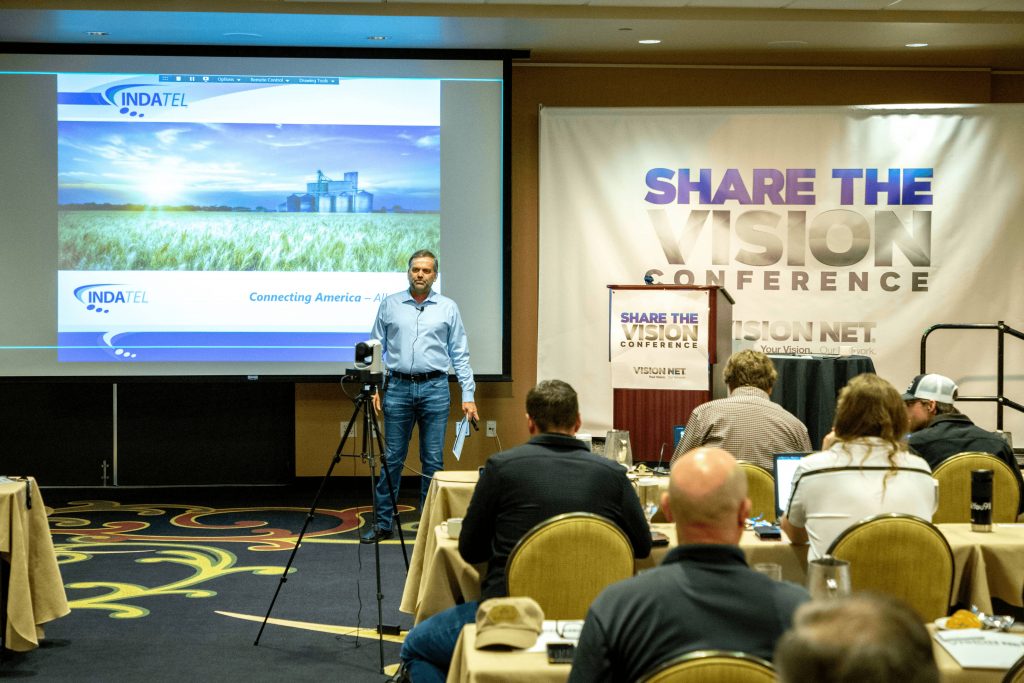 How has the INDATEL/Vision Net partnership benefitted both company's clients?
Today, INDATEL is working our way toward government sales and direct enterprise sales as we continue to grow and build on advanced and diversified models with revenue streams. The value to the member owners has been in initially providing lower cost solutions at a national level and electing those services to stay at local levels. The biggest content these days is known as hyperscale players like Netflix, Google, and national aggregation POPS (Point Of Presence Site) throughout the country. INDATEL connects customers in multiple locations in multiple states throughout the country through our carrier ethernet.
Tell us about the partnership between INDATEL and Vision Net?
I'll give you an example that ties directly to Vision Net; at the very first carrier Ethernet type of solution was from Big Sky Montana to Missouri at 10mg circuit tying two medical facilities together. Previously, when you tried to do that on a national basis, there wasn't a single national player that can put that together. INDATEL, through its family of networks connected those two via Ethernet 10mg service.
With Vision Net in Montana, that fulfilled the need to have a local player to meet INDATEL in Chicago and the aggregation router to our Missouri member. This was the perfect example of a medical organization connecting their facilities that wouldn't have been possible under one single carrier and that's the beauty of INDATEL; bringing one to many. Bringing one solution by using many players; bringing one contract, one bill, one point connection, and one hand off.
I would categorize INDATEL as the largest national rural broadband aggregator. There's no other company that, at this point, can touch the number of miles of fiber that we have in that space. With over 5,000 miles of fiber, I think it's more like we have over one million on net Internet buildings identified. We work with over 5,000 communities and 19 national aggregation POPS.
What projects have both companies completed together, and what were the results?
There are projects or initiatives that bring value to INDATEL; projects that lead into automation efforts and projects that have provided value. Salesforce.com is probably the most recent one where that was the driver of our automation from quote, service, delivery, and building customized software that members of our statewide networks in the local independent operators can take advantage of at a much-reduced price. INDATEL members such as Vision Net bring new opportunities and projects to the forefront, like helping us determine if there is a groundswell that could garner value and something that INDATEL could take forward in the national level.
What is the vision and mission of the Indatel/Vision Net partnership?
INDATEL's history with Vision Net is deep and impressive. I have to single out Corey Jensen; he has been on INDATEL's board for 12 years and he was President for six years and after a short hiatus, recently returned to the board. In the early days of INDATEL, he was instrumental in building the first aggregation route from Chicago and worked in billing and other elements getting the problems solved and helping INDATEL get off the ground so that in 2013, we could have permanent employees. The commitment that Vision Net provided in those early days and the amount of time and extra time spent on INDATEL from Vision Net is incredible and it really gets to the deep roots of being in the rural space. Knowing Corey personally, his background and mine are very similar in that nature and that's the fabric of INDATEL tat comprises the work and that mindset, that integrity, that level of effort and commitment is inherent in and folks who have spent their time and background in rural spaces.
If I had to sum up in a word, the partnership between INDATEL and Vision Net, I would call it INDAVision. That is how closely we are tied together and that's how closely we are tied into making this model work in the space we are in today.
What do you see for the future of both Indatel and Vision Net?
I think goes beyond what we what we will do today, certainly in terms of automation and the type of revenue that we're driving today. As I mentioned, we're an exclusively wholesale carrier, but looking at ways that we can work with our member owners and independent owners on building fiber at all levels; last mile, middle mile, and long mile. We're looking at how to drive revenue from actually building fiber or installing fiber in the ground, so more to come on how that may work and what our efforts will materialize into. But we're looking at additional ways to drive revenue, drive value, drive fortunes, and bring those opportunities to member owners to help them monetize fiber networks.