(Great Falls, MT) The Board of Directors of Vision Net, Inc., is pleased to announce and welcome Robert Worden as the new President and CEO of Vision Net, effective July 3, 2023.
Worden brings over thirty years of telecom and technology management experience to this role, most recently with Fujitsu as the Head of United States Broadband Operations. In this position, he led teams responsible for the design, building, operation, and maintenance of wired and wireless municipal and utility broadband networks, mass transit networks, and the first public-private middle-mile network in the United States, Kentucky Wired.

"The board is excited to announce Robert Worden as the next Vision Net CEO. We look forward to adding his leadership, unique perspective, and valuable experiences to an already strong organization. Please welcome Robert and his family as they make the transition to Great Falls" – Jason Moothart, Board chair.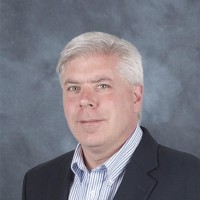 "I'm thrilled to become a part of Vision Net," Worden says. "What drew me in is how valuable the company is, with its talented employees and powerful business model ready to capitalize on the dynamic changes in the telecom industry."
Worden previously held leadership positions at Frontier Communications and Sebastian, where he helped direct strategies to connect and manage thousands of network customers across the Western United States. He also served as a Silicon Valley-based CTO/CIO consultant on wired, wireless and cloud technologies.
Worden was also a member of the California Communications Association and a board member for two California college foundations. An industry thought leader, he has produced published works on technology subjects and has been an invited speaker to the Fiber Broadband Association, Utilities Technology Council, National Tribal Telecommunications Broadband Summits, and National Telephone Cooperative Association, among other industry events.
Worden holds BA and MA degrees from the University of Calgary and the University of Leeds, respectively, and presently resides in McKinney, Texas. With his wife, Holly, Robert will move north to take residence in Great Falls.
About Vision Net
For over 25 years, Vision Net has provided a full suite of B2B telecommunications solutions to financial services, healthcare, government, professional and educational clients, allowing them to innovate and expand in Montana and beyond. With offices in Great Falls, Billings, Missoula, and Helena, Vision Net gives its clients the peace of mind to concentrate on their business by providing a secure, agile, and adaptable network built for their needs and budget. Vision Net is proud to be Montana's largest independent network and proud to call Montana home.