by Bill Daniels – Vision Net 9-1-1 Supervisor
In June, I had the opportunity to represent Vision Net at the 2022 NENA Conference and Expo in Louisville, Kentucky. I was able to connect (or even better, reconnect) with numerous 9-1-1 industry leaders, subject matter experts, vendors, and old friends to get a glimpse of the future of 9-1-1 across the United States.
NENA is the National Emergency Number Association and is responsible for developing standards, training curriculum, leadership, and outreach for the 9-1-1 community. From their website: 'NENA is the only non-profit organization solely focused on improving 9-1-1. The organization represents tens of thousands of hard-working 9-1-1 first-responders who assist individuals in crisis and play a vital role in almost every emergency'. Vision Net has been a member of NENA for almost 15 years, and we've supported 9-1-1 in Montana since 2006.
Monday's activities included NENA'a opening session featuring speeches from NENA's Board of Directors 2021-2022 President Jennifer White, and the introduction of incoming President Laurie Anderson. They also announced this year's Gold Line Scholarship winners and challenged NENA members to raise $30,000 for next year's recipients. The NENA Gold Line scholarship provides funds for 9-1-1 dispatchers and managers who might not otherwise be able to attend. By Wednesday, we had raised well over $31,000, thanks to matching contributions from T-Mobile and RapidSOS!
Monday morning's session was highlighted by motivational speaker (and tour drummer for P!nk) Mark Schulman. Mark had everyone up and moving! He has performed with Cher, Billy Idol, Foreigner, Stevie Nicks, Beyonce', and many others.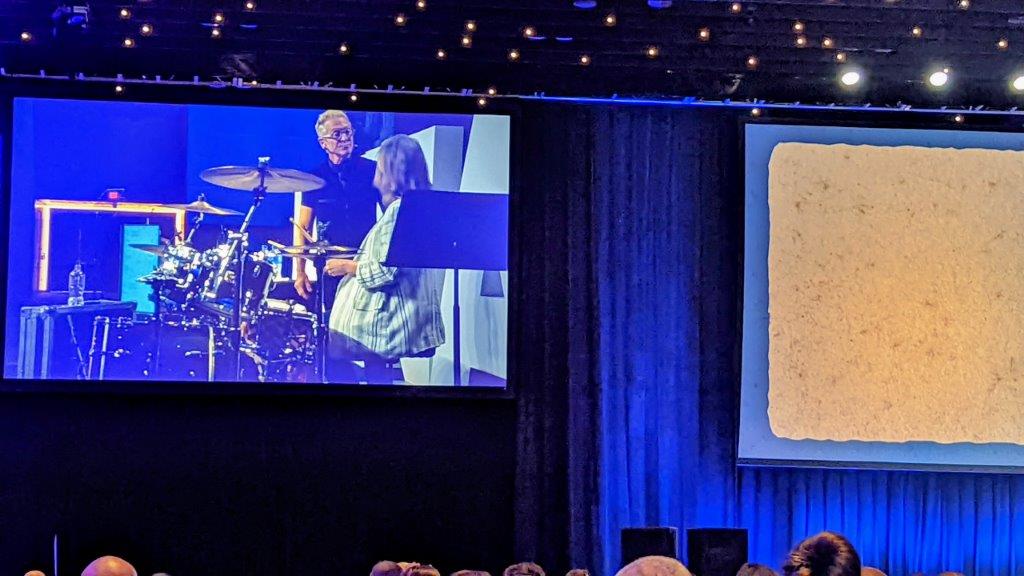 The rest of the Monday and Tuesday was all about the Trade Show! It's been a couple of years since I've been able to visit and catch up with people that I've been working within the industry for so many years. I was also able to get 'hands-on' with the latest technology for 9-1-1 call-taking and location information. I got demonstrations from companies such as Intrado, Synergem, MicroAutomation, ECaTS, and Carbyne. I also spent time discussing technical challenges with Sales technicians from Motorola (Thanks, guys!). There were around 125 different booths, with vendors, consultants, and experts from every facet of Public Safety.
The 3 days were also filled with numerous Break-Out sessions with opportunities to learn about subjects as varied as the future of 9-1-1, Cybersecurity (that one's always pretty full!), GIS mapping data, training and staffing, and Resilience for 9-1-1 professionals. I was personally able to attend workshops on 9-1-1 leadership, mental wellness (we all need that!), and FEMA's IPAWS Alerting system.
On Wednesday, we were introduced to NENA's Board of Directors for the coming year and were entertained after lunch by Motivational Keynote Speaker Connie Podesta (Yes, I'm a triangle 😊 ).
On Thursday, even though the conference was 'officially' over, I attended a 5-hour Bootcamp in preparation for taking the ENP (Emergency Number Professional) Certification. The cert will be 50% technical (my forte) and 50% PSAP Management (not my forte).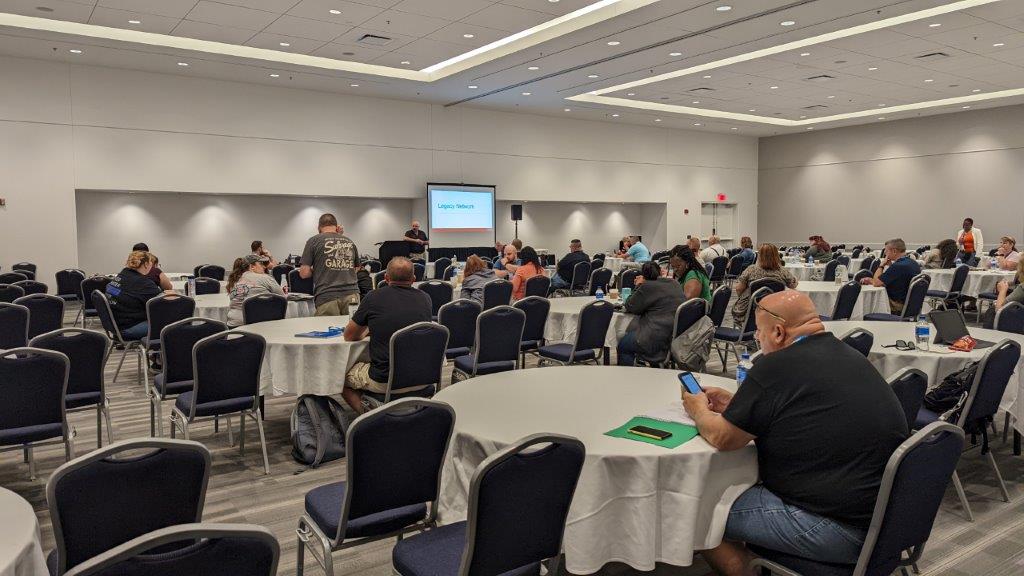 The week was also filled with some events for a little fun and a chance to see Louisville, including a 5k Run/Walk for charity on Saturday, a visit to the Louisville Slugger factory, several tours of the Louisville PD Dispatch center, and Wednesday night's closing celebration at Churchill Downs in the Kentucky Derby Museum!
It was an excellent opportunity to reconnect with colleagues, make some new friends, work with the newest in 9-1-1 technology, and have just a little R&R.
Bill Daniels is Vision Net 9-1-1 Supervisor, he and his team are responsible for maintaining and monitoring Montana's IP-based Emergency Services network (or ESINet), Network centers in Billings and Missoula, and the 9-1-1 call-taking equipment in many of those counties. He cannot resist spicy food, especially in chocolate.