This month, we met David Gauthier, part of our Business Development team. Learn about his favorite food, how he defines success, and the exciting tournament he organized!
What is your position at Vision Net and what do you do?
I am the Installation technician for the Business development team.
How long have you worked at Vision Net?
14 years
What made you choose Vision Net?
It was a relatively new company at the time with innovative and fresh services brought to the table. Vision Net was willing then, as now, to hire based on performance and work with a person to bring forth and sharpen the knowledge. I had a few high school buddies working here as well.
What 3 words describe Vision Net?
Solutions (Vision Net has it or if a client needs it, we get it)
Dedication (Vision Net strives to go further than most for our clients)
Innovation (Vision Net always works on behalf of our clients)
What is your favorite Vision Net perk?
The Barbeques. The folks here work are great to be around all together. It's hard to miss a BBQ. I think a lot of us are closet gourmets; we're holding a Chili cookoff next week, and that will be very fun!
What challenges do you enjoy at Vision Net?
Creating solutions for our clients when there is no "off the shelf" solution.
What projects are you especially proud of?
I enjoyed the adoption of Vidyo and its production run.
What have you learned during your career at Vision Net?
I have learned a lot here. I think the AV side of Video Conferencing along with the networking and protocols has been my favorite though.
What do you enjoy most about being a part of the Business Development team?
It's a smooth sailing ship. Most of the people in this group have been here for some time and I've worked with cross departments a lot. Very good people here!
If you could add one thing to the Vision Net office, what would it be?
More outside windows. (my office has none!) But on a fun note, I have organized a Shuffleboard competition that begins in a few weeks. We have an amazing Shuffleboard court, so this fun competition will bring people from different departments together for a fun competition, with lunch provided!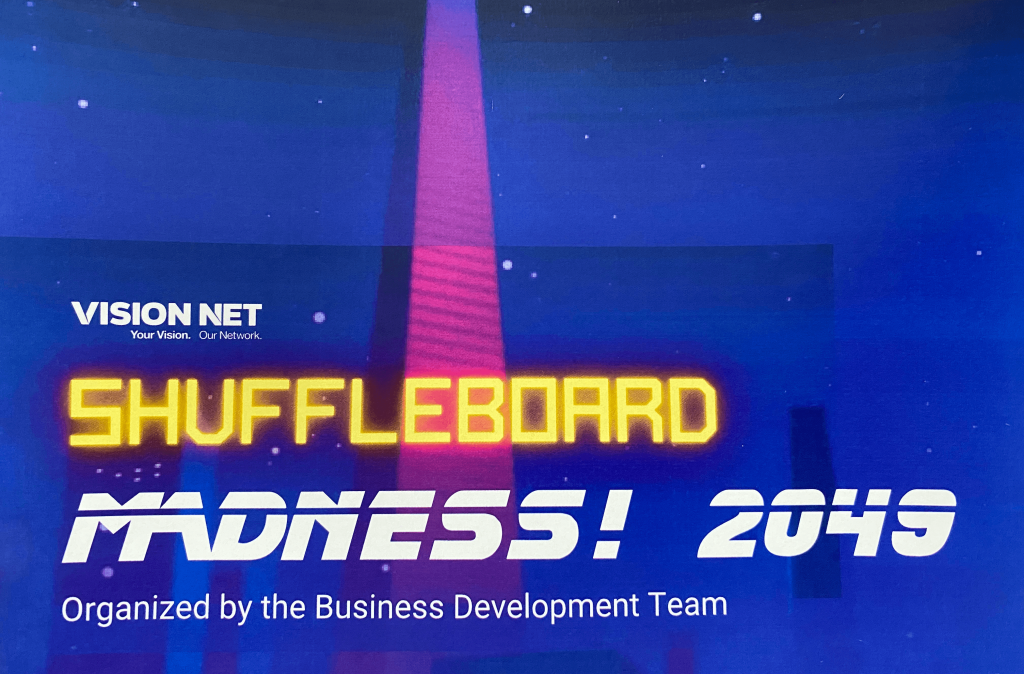 What advice do you have for prospective Vision Net candidates?
Be ready to be ready. One thing about being a tech is that there may be some down time but when the storm hits, the ability to handle it is key to success.
What do you like to do when you aren't working?
Like Frankie said, Relax! (Yeah, I grew up in the 80s!)
What is your favorite movie?
Memento; Every time I see it, I see it a different way and it means something different.
What is your favorite food?
Anything with potatoes
Do you have any talents or hobbies?
I have recently begun jewelry making and wire art!
How do you define success?
Success in life; are you breathing?
Success at work; put forth your best effort and you will always succeed. Always.