It's not your imagination, ransomware attacks are on the increase. In fact, in 2020, ransomware attacks increased 150% with the amount paid increasing more than 300%. Throughout 2021, ransomware attacks have garnered media attention after hackers targeted pipelines, meat suppliers, and education facilities across the country. Businesses need to remain vigilant against ransomware and cyberattacks 24 by 7, whereas a cybercriminal only has to be successful once. As part of Cybersecurity Awareness Month, learn about the resources that protect your business, your clients, and your business' reputation from a cyberattack.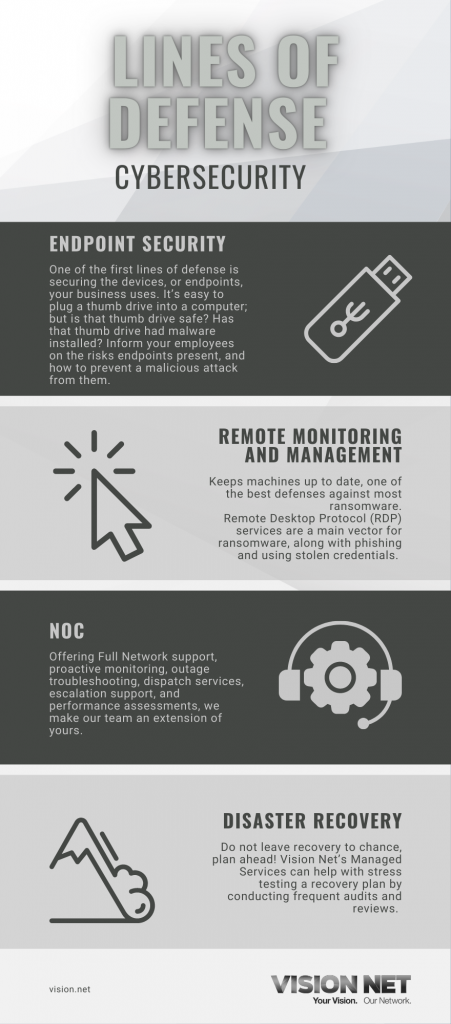 Hackers have become more sophisticated and to stay ahead of the next wave of attacks, businesses need to employ tools that will protect their network and their data. Antivirus software is a good start, but since cybercriminals have begun deploying a double-extortion technique wherein they gain access to a business' network and then hold the data ransom, businesses need to go beyond standard antivirus software with a comprehensive and proactive solution. Vision Secure keeps your business ahead of ransomware attacks by providing you with a secure, fiber-backed network and offers secure and frequent backups in the event of a cyberattack.
The scary reality for businesses is that not only are cyberattacks increasing, but the money paid out is increasing. In some rare cases, such as the recent Colonial Access Pipeline hack, most of the money was recovered, but sensitive data was still exposed, and the company's reputation suffered.
Protect your business' assets and reputation by learning about the tools available to you. Each business' needs are unique, and you need a technology solution that suits your needs.
Endpoint Security | One of the first lines of defense is securing the devices, or endpoints, your business uses. It's easy to plug a thumb drive into a computer; but is that thumb drive safe? Has that thumb drive had malware installed? Inform your employees on the risks endpoints present, and how to prevent a malicious attack from them.
NOC | Vision Net's Network Operating Center provides full network support for your business with our proactive monitoring, outage troubleshooting, dispatch services, escalation support, and performance assessments. Our team is prepared day or night to ensure your business remains secure.
RMM | Vision Net's Remote Monitoring and Management service keeps machines up to date, one of the best defenses against most ransomware. Our managed firewall service is a great way to keep machines and services from being exposed to the internet that should not be as exposed. Remote Desktop Protocol (RDP) services are a main vector for ransomware, along with phishing and using stolen credentials.
Disaster Recovery | Vision Net's Managed Services can help your business develop a Disaster Recovery plan that includes stress testing your plan by conducting frequent audits and reviews. Using the information obtained during this process, Vision Net will outline recommendations to help you retrieve your data and mitigate the impact of a disaster; natural or man-made. Businesses experiencing rapid growth and change will find this service especially valuable. Risks change as businesses change requiring a recovery plan that can accommodate more variables and unknowns. Do not leave recovery to chance, plan ahead! Vision Net services keeps businesses prepared for the worst. Whether there is a dramatic natural disaster or data breach, a business' survival hinges on its ability to resume normal operations as quickly as possible.
One silver lining to the increased cyber and ransomware attacks is that the attention paid to the risks cyberattacks present is helping and encouraging business owners and leaders understand why a robust security solution is in their best interest, regardless of size. Vision Net provides a comprehensive security package for your business, whether you have one employee or 1,000 or more. We are focused on the detection of known and unknown threats to reduce your risk of falling victim to an increasing range and scale of attacks.